Clam Bar History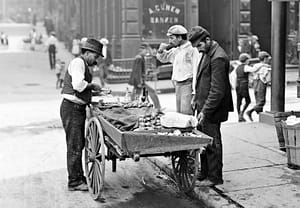 At the turn of the 19th century, New York's Little Italy saw the first of what would be many Italian clam bars. These clam bars all had one thing in common. It was all about the sauce. Guests would choose a sweet, medium or hot sauce to compliment their Italian favorites.
And for many years, guys and dolls enjoyed their Italian dishes with some fine hooch. Unfortunately, during Prohibition, fans of clam bars would have to jump to a juice joint to wet their whistles.
For generations, my familia lived in New York and experienced firsthand the journey of the Italian clam bars. I have great memories of getting spiffy and visiting our local clam bar. I always thought it would've been the cat's pajamas to walk thru the door of an Italian clam bar on the day Prohibition ended.
In creating Speaks Clam Bar, we did just that. Where the finest Italian meals in the great clam bar tradition are enjoyed in the fun-loving spirit of the speakeasy. Perfect for a swell time with your family and friends.
House-made Pasta & Sauces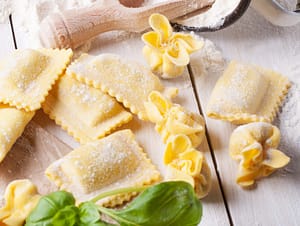 We know pasta from a box is like a wet blanket. Speaks Clam Bar pasta is made fresh in house for all guests to see. We make the traditional clam bar sauces fresh in house as well.
A Well-made Drink
Thirsty guests will find a wide range of the best hooch. Choose from large selections of vino by the glass, beers on tap (including craft brews) and garden-to-glass, crafted cocktails.
Join the Family
Join our family for a dining experience — you'll won't forget about it! Did that come out right? I'll just say, join us for an unforgettable time with your family and friends!